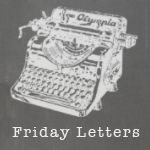 Dear Ollie and Nate
, we're going to Grandma's this weekend!  It's Grandma's birthday, so lots of fun, pressies and cake!  
Dear Hubby,
have fun on your NHS Hackday in Liverpool... it's doubtful that we will miss you considering we have a fun filled weekend! Haha!  
Dear Cold Virus
, stop giving littlest the snots!  He really doesn't need to deal with a cold on top of teething etc.  
Dear Readers
, I am such a blog-neglector... normal service resumes today... I guess I had a few days off huh?  
Dear Mum
, looking forward to birthday sushi on Saturday!
 Dear Me
, make a to-do list and stop forgetting to do things i.e.  send off your provisional licence application form and get driving!  
Dear Fall Weather
, is it time for hats and scarves yet?  I also need a new winter coat!  
Dear Me
, step.away.from.the.junkfood!  
Dear iPhone 4S
, Why are you not an iPhone 5?